Northwest Scents Hair Pomade
Northwest Scents™ Hair Pomade is a rich buttery hair dressing and a natural alternative to petrolatum and mineral oil based hair dressings. It is made with beeswax and natural oils. It absorbs nicely into the hair leaving a gentle sheen with no greasy afterfeel. It contains no mineral oil, paraffin, parabens or fragrance oils.
Use it to:
soften and condition dry, textured hair.
enhance your natural wave pattern when used on curly hair.
as a pressing cream.
to seal in moisture after washing your hair.
to reduce frizz
to condition braids and twists.
How to Use
Apply a small amount to the palm of your hand and rub your hands together to melt the pomade. Then gently smooth the pomade into your hair from the roots to the ends to soften and condition your hair. This product is especially nice when applied to freshly washed hair while it is still damp.
Available in the following scents: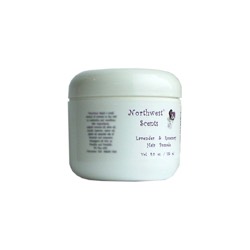 Lavender Rosemary
This scent is a blend of the essential oils of lavender and rosemary. Lavender essential oil, steam distilled from lavender flowers, is naturally antiseptic. Rosemary essential oil, distilled from fresh rosemary plants, is a mild natural scalp stimulant.
Buy on Amazon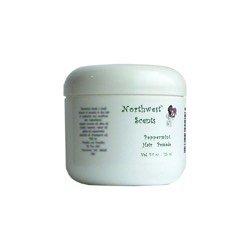 Peppermint
This item is scented with peppermint essential oil. Peppermint essential oil invigorates the scalp, and leaves it tingling, and feeling cool and refreshed. Peppermint essential oil also helps to relieve itching and other scalp problems.
Buy on Amazon
Buy on eBay
Lavender Garden
This item
is scented with a blend of the essential oils of lavender and roman chamomile and contains herbal extracts of calendula, sunflower, aloe, carragenan, and althaea root.
Buy on Amazon
Buy on eBay